2021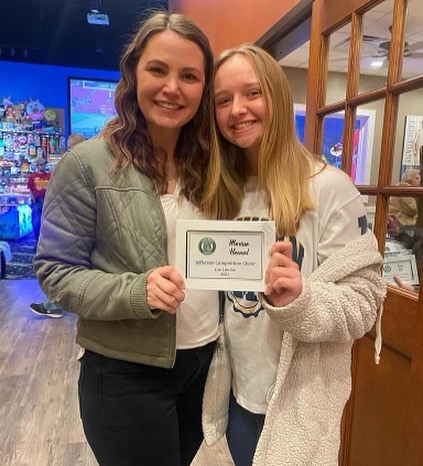 November 19, 2021
Congratulations to Marissa Haensel! Marissa is the first recipient of the newly created Jefferson High School Spirit of Caitlyn award for competitive cheer. Jefferson is the brand new high school in Sioux Falls. We were told by the coaches that Marissa has "so many of Caitlyn's same qualities". Marissa is also a long time Dakota Spirit cheerleader. Thank you Jefferson Cheer Department for creating this award to continue Caitlyn's legacy. Best wishes Marissa, have a great senior year!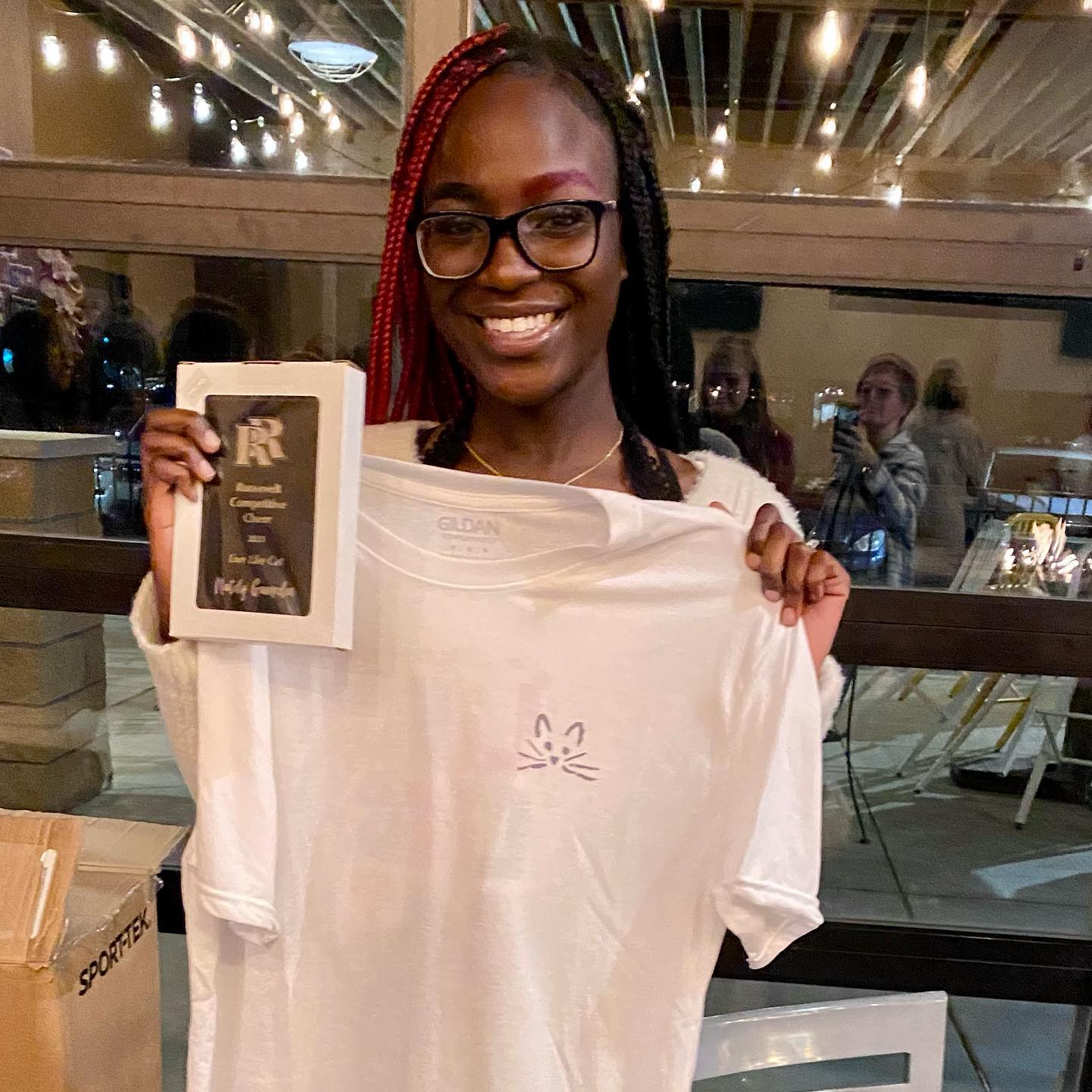 November 16, 2021
Congratulations to Nately Gamrden. Nately was the recent recipient of the Spirit of Caitlyn award for Competitive Cheer at Roosevelt High School. Thank you Roosevelt for continuing to honor Caitlyn. Way to go Nately! We are proud of you!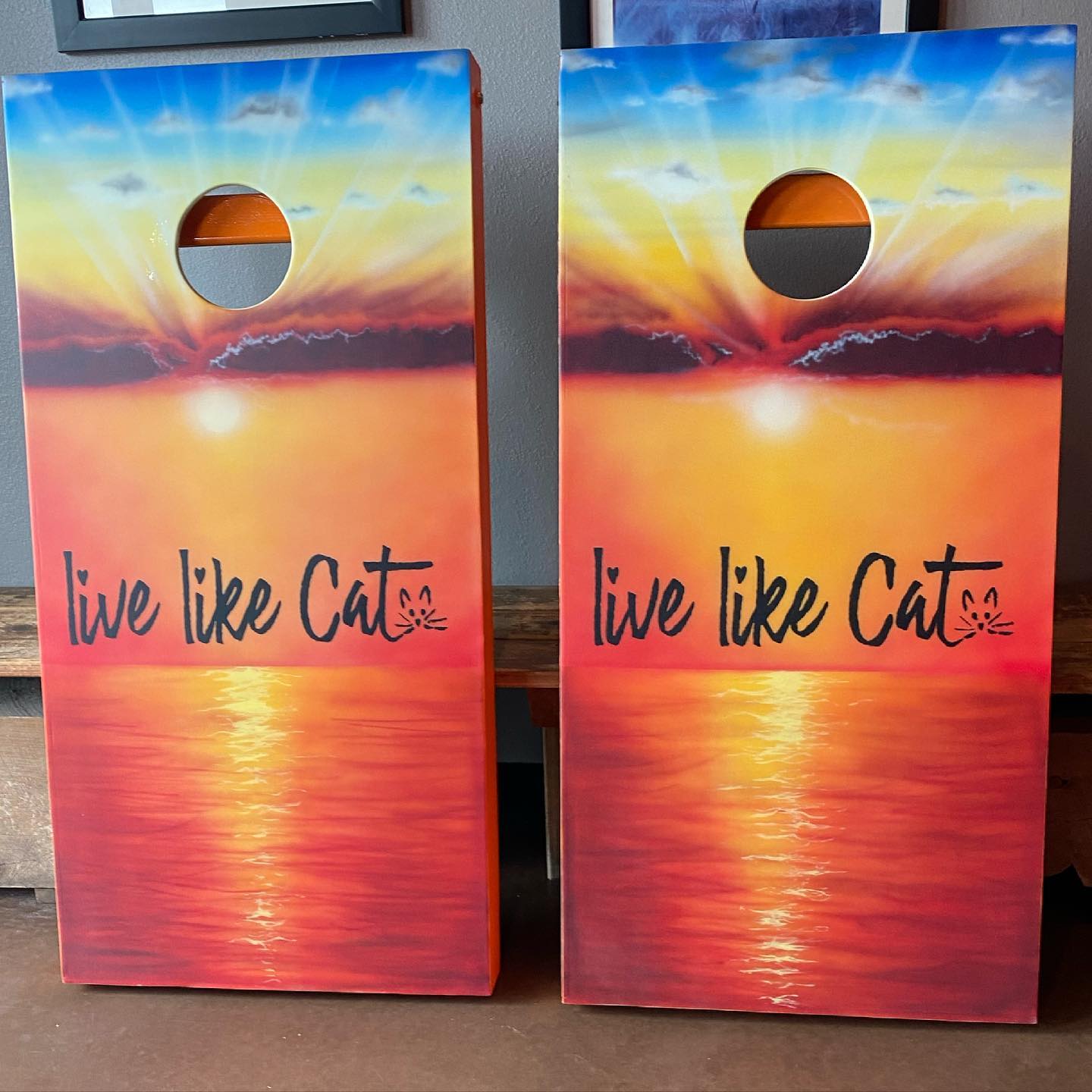 June 24, 2021
The beautiful boards are Hand Painted (not a wrap) based on a vacation photo Caitlyn took. Thank you Mark with Resurface by Design for putting on the protective finish. Thank you for honoring our sweet Caitlyn.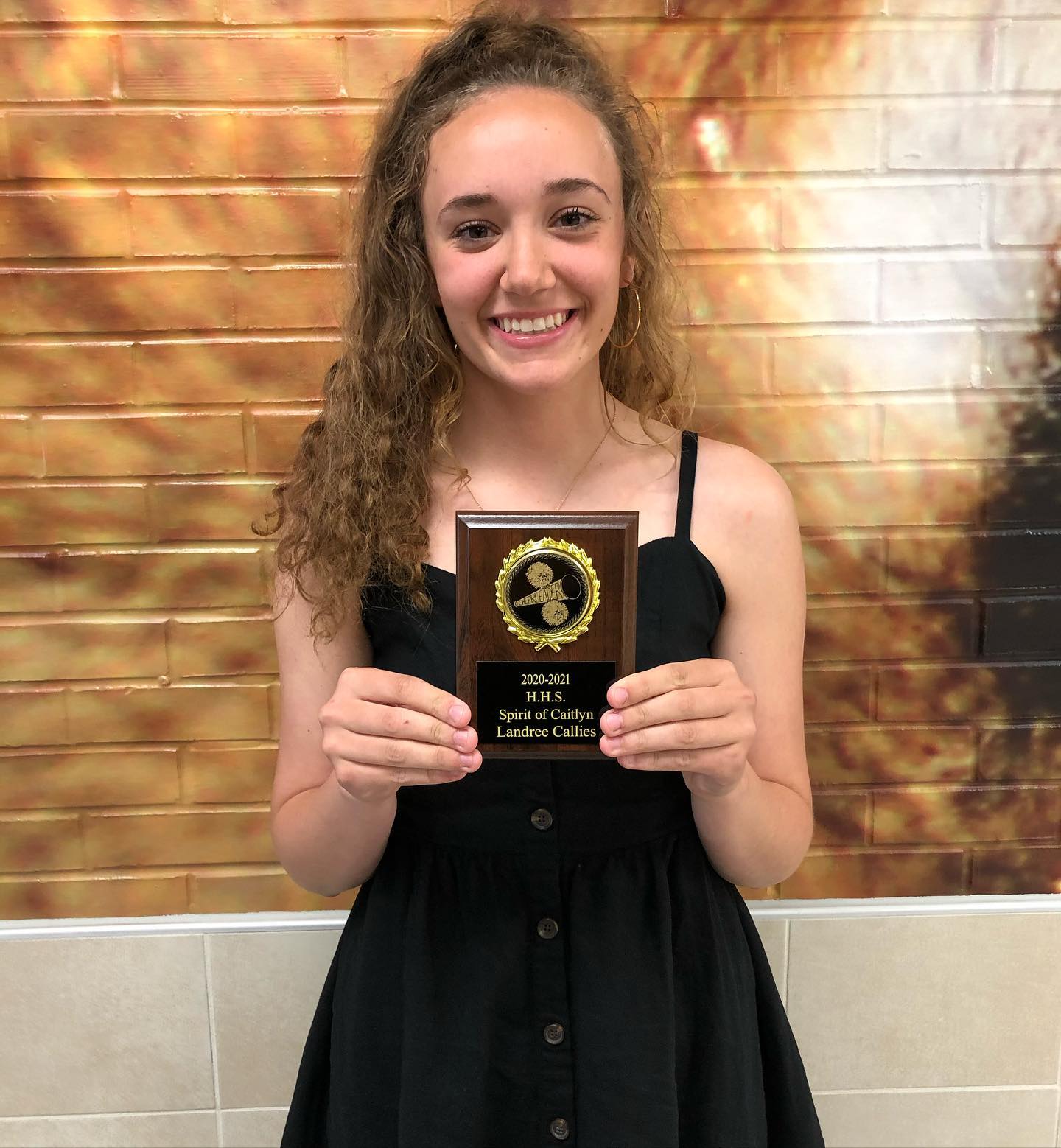 May 14, 2021
Audre Nilges recently established the "Spirit of Caitlyn" award in Howard, S.D. where she currently teaches and coaches. The recipient of the first award went to Landree Callies. Congratulations Landree!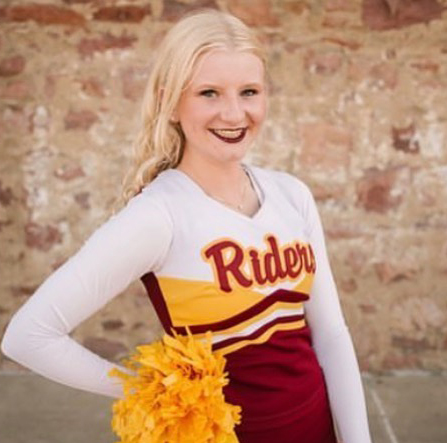 April 20, 2021
Congratulations to Morgan Mueller who was chosen to receive the RHS sideline cheer "Spirit of Cat" award.
2020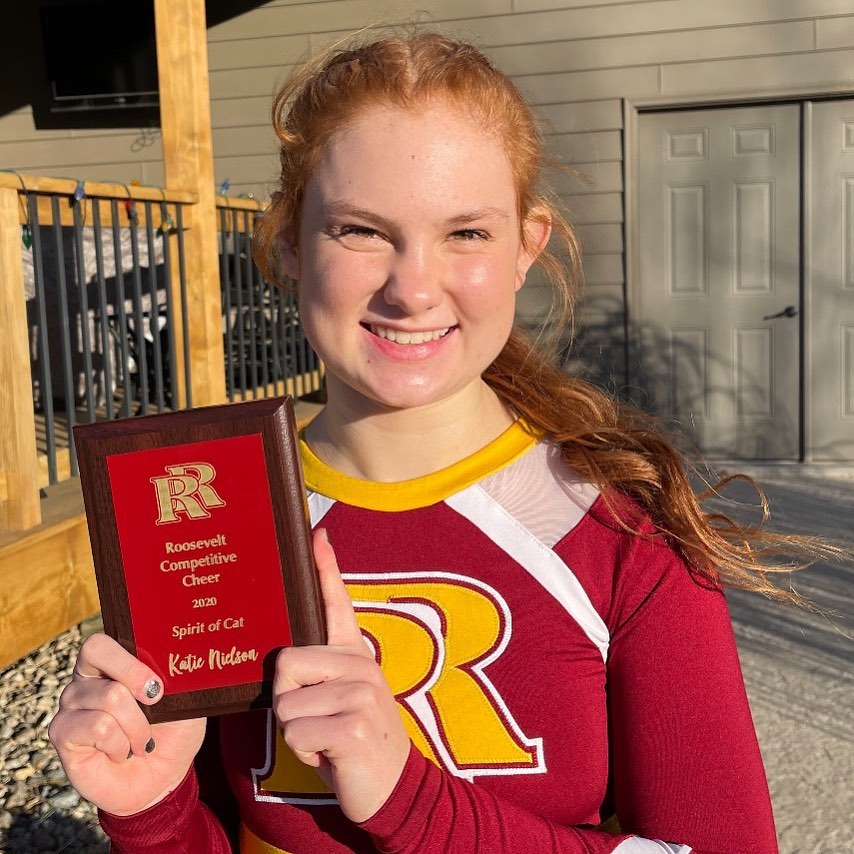 December 5, 2020
Congrats to Katie Nielson. The 3rd recipient of the Roosevelt Spirit of Cat award. Thank you to the RHS cheer coaches for continuing Caitlyn's legacy and spirit.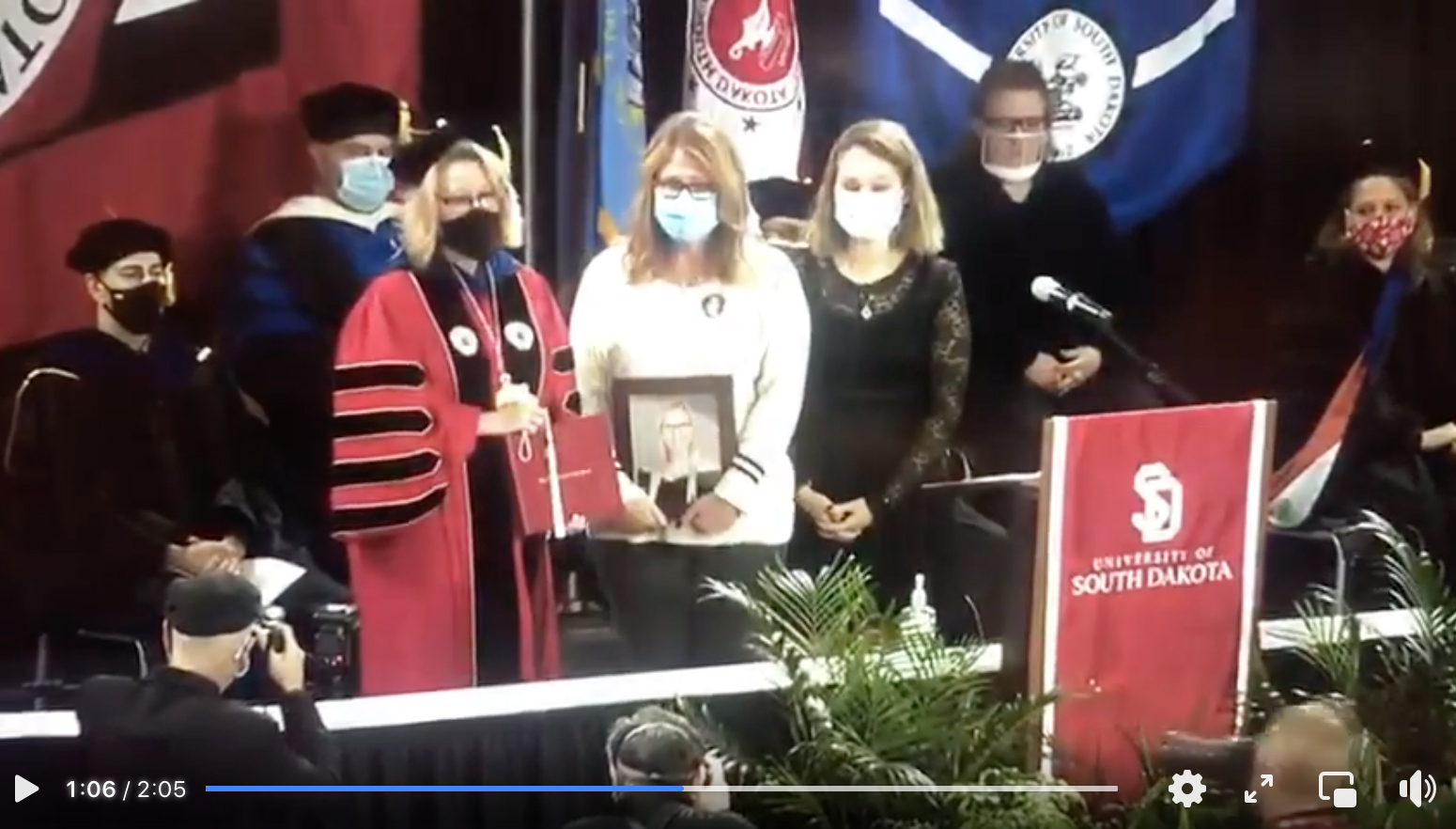 October 24, 2020
Barb and Alex accept Caitlyn's diploma at the 2020 University of South Dakota graduation. Click the image to follow a link to watch the video.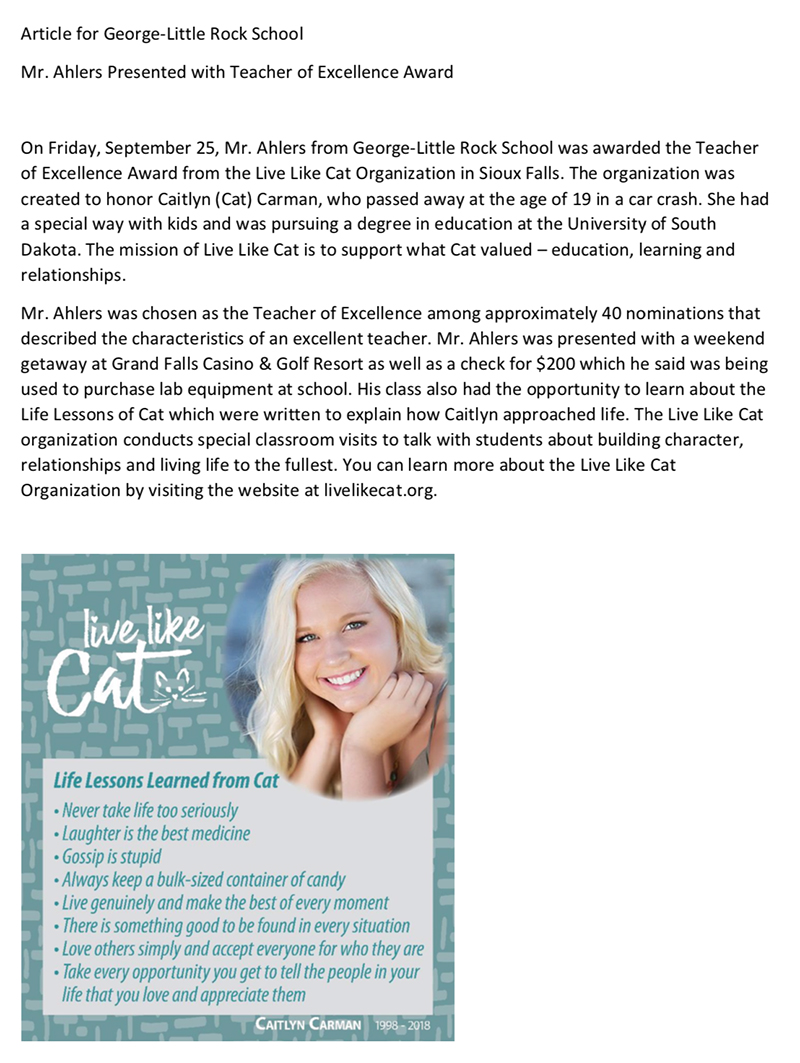 September 25, 2020
Congratulations Mr. Ahlers! Mr. Ahlers, a teacher at George-Little Rock School, was Presented with the Teacher of Excellence Award on Friday, September 25th from the Live Like Cat Organization in Sioux Falls. Mr. Ahlers was chosen as the Teacher of Excellence among approximately 40 nominations that described the characteristics of an excellent teacher.

Click here to read the full article.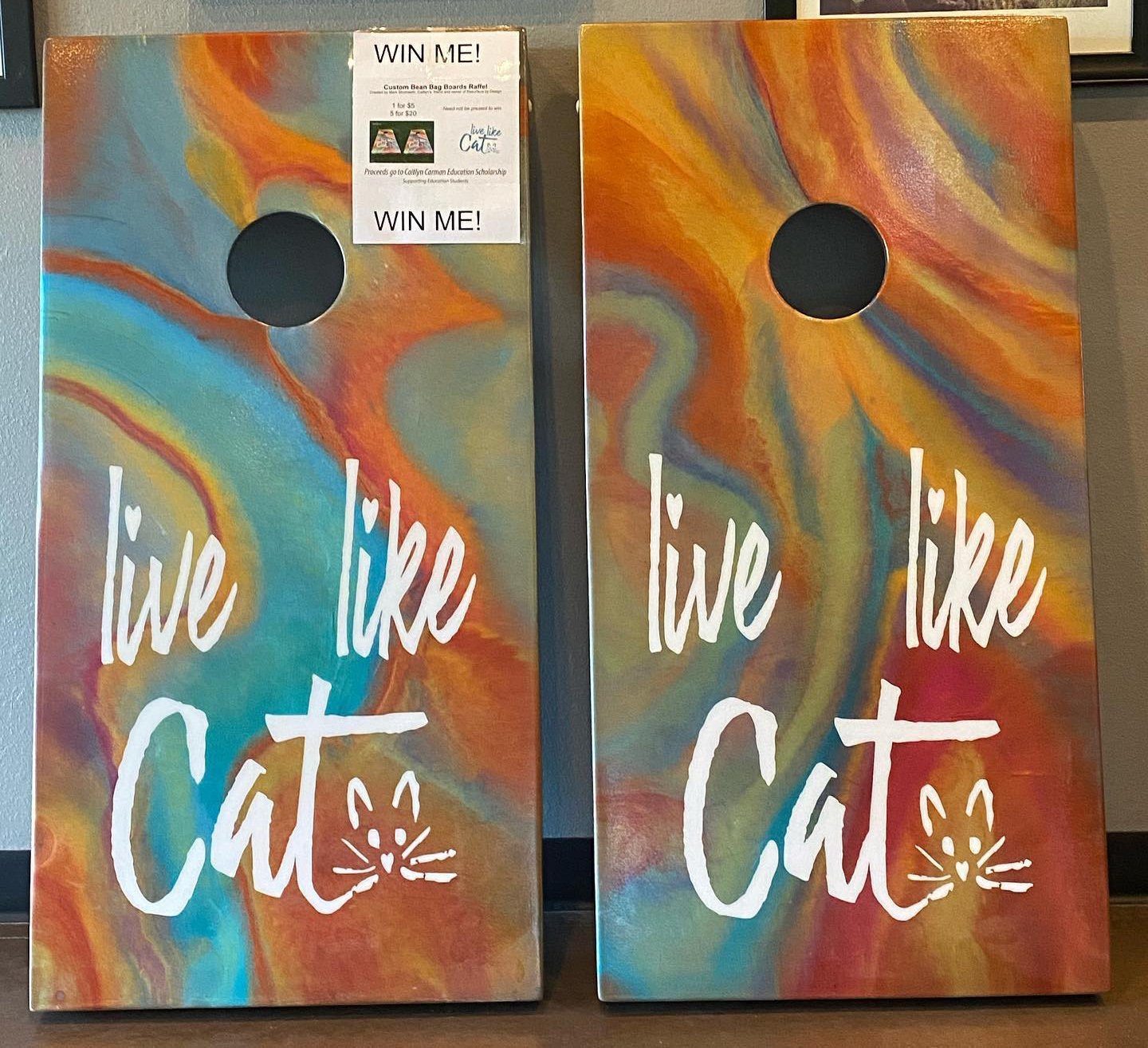 June 19, 2020
The boards are done, and it's time for the 2nd Annual Live Like Cat Bean Bag tournament on Saturday, June 20th at Golf Addiction. This is our first fundraiser for 2020 and we are so lucky to have this beautiful custom made set of bean bag boards from Caitlyn's dear friend, Mark Stromseth. Thanks to everyone for your support and generosity last year that made this event such a success. It was the kick off to fundraising for Live Like Cat and the beginning of raising the funds that led to the Caitlyn Carman Educational Scholarship being established at USD! We are grateful! Thank you Resurface by Design. The winner of the bean bag boards; Sarah Brasel. She wanted these boards from the first time she laid eyes on them. Congrats Sarah on your winnings.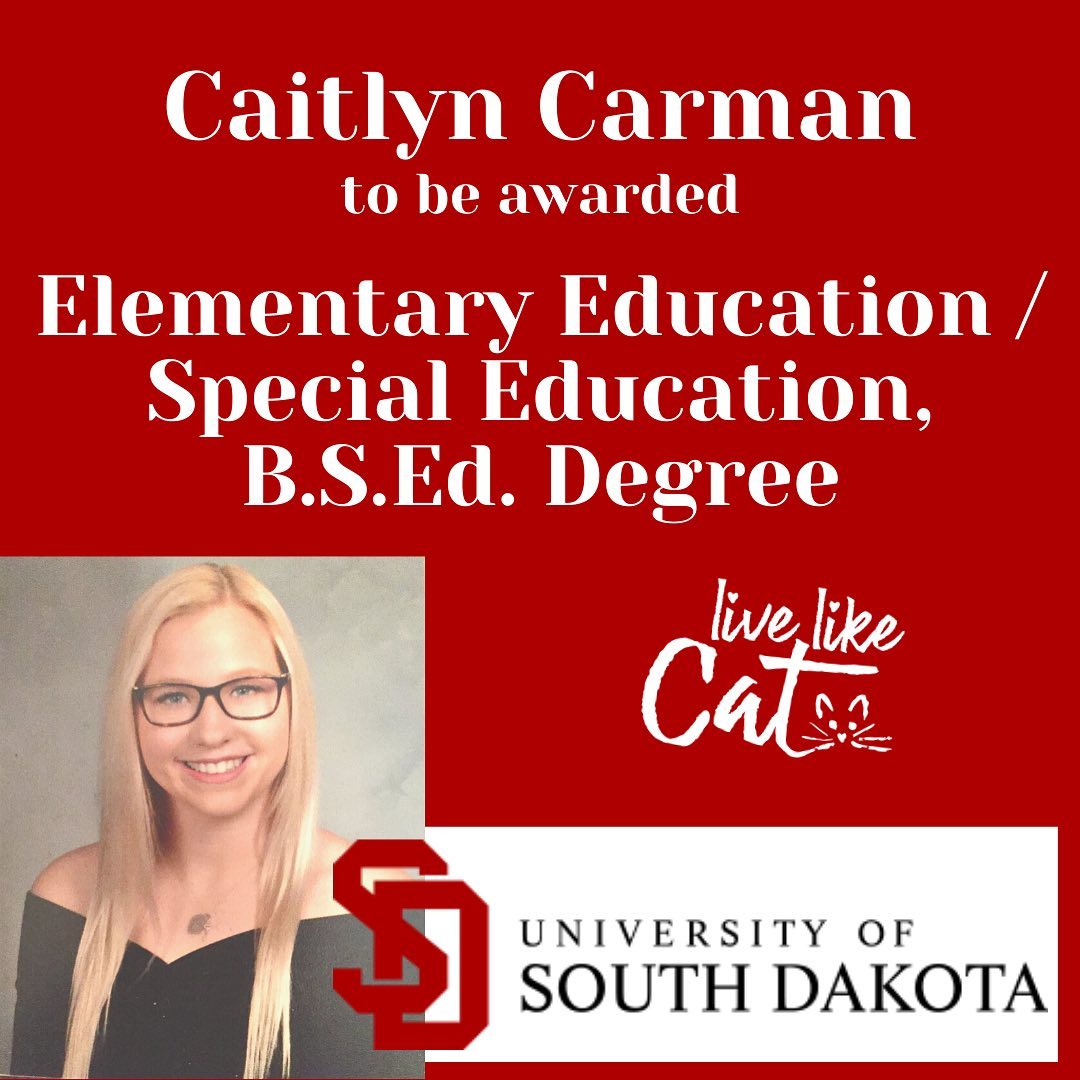 May 9, 2020
It is with great honor and pride that Caitlyn will be awarded her bachelor's degree from the University of South Dakota. Originally scheduled for May 9, Barb and Alex were to accept her diploma which happens to be Caitlyn's dad's birthday (Dan Carman). The SD Board of Regent's policy recommends that students in their last semester of study are eligible to receive an honorary posthumous degree. Dr. Robin Wiebers, Interim Associate Dean and Dr. Amy Schweinle, Interim Dean of the USD School of Education wrote a recommendation letter to the USD Faculty Senate that Caitlyn deserves her diploma, which was unanimously approved by all colleges and schools within USD. The next step was to take the recommendation to the SD Board of Regents where all SD public universities would need to approve. It was approved unanimously at the December meeting of the Board of Regents. This honor is by far an exception to the rule, proving that Caitlyn made an impact on everyone within the School of Education at USD. Caitlyn wrote her own legacy, and it will live on at USD through the Caitlyn Carman Education Scholarship. Barb and Alex will accept the diploma when graduation has been rescheduled.
2019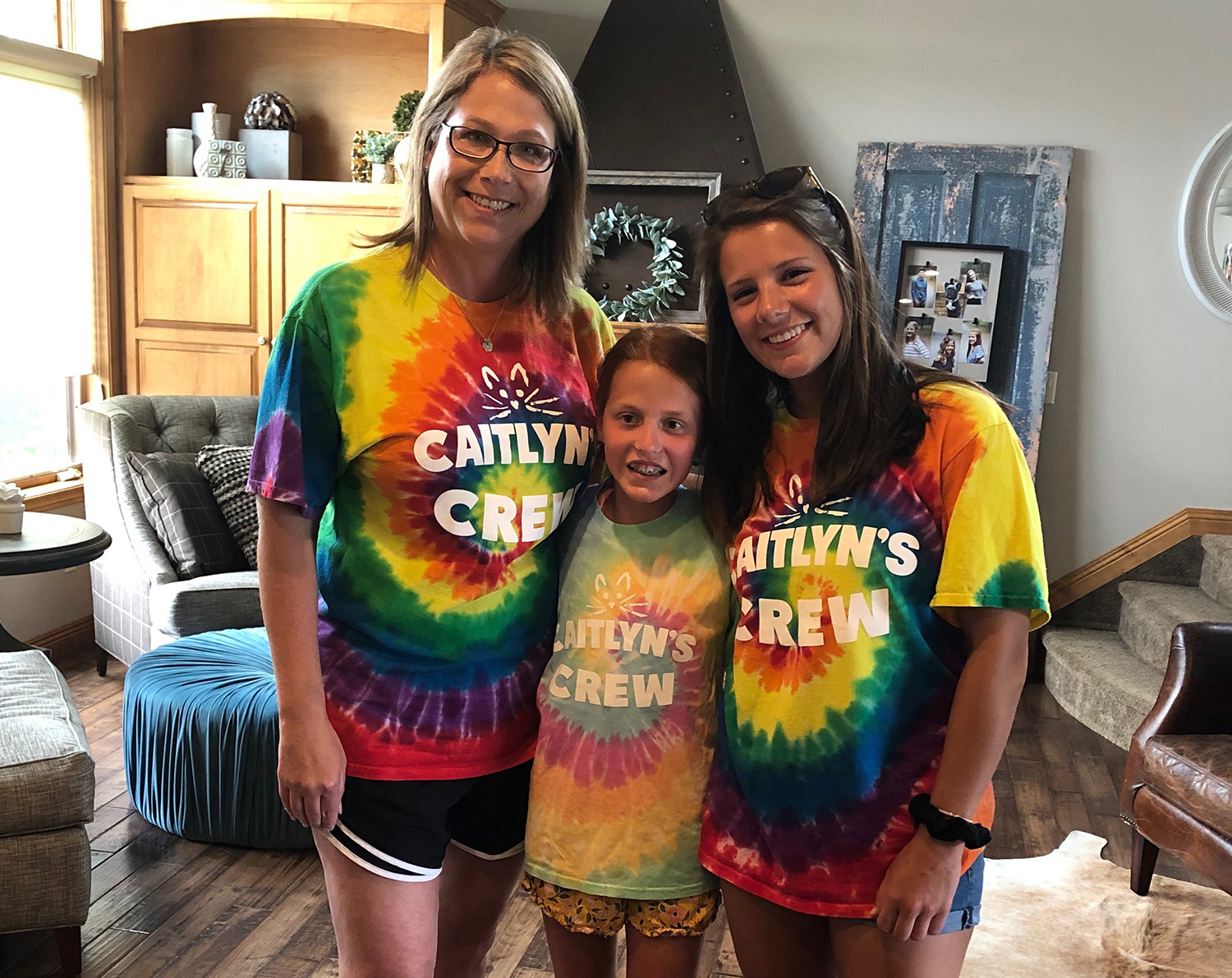 June 28, 2019
This young girl, Verity, was impacted by Caitlyn's story during a classroom visit on March 29, 2019. Her mom reached out to us to let us know how Caitlyn impacted her. We decided to suprise her on her birthday with her own custom Caitlyn's Crew t-shirt. Megan, Caitlyn's friend and Verity's student teacher, accompanied Barb to deliver the suprise.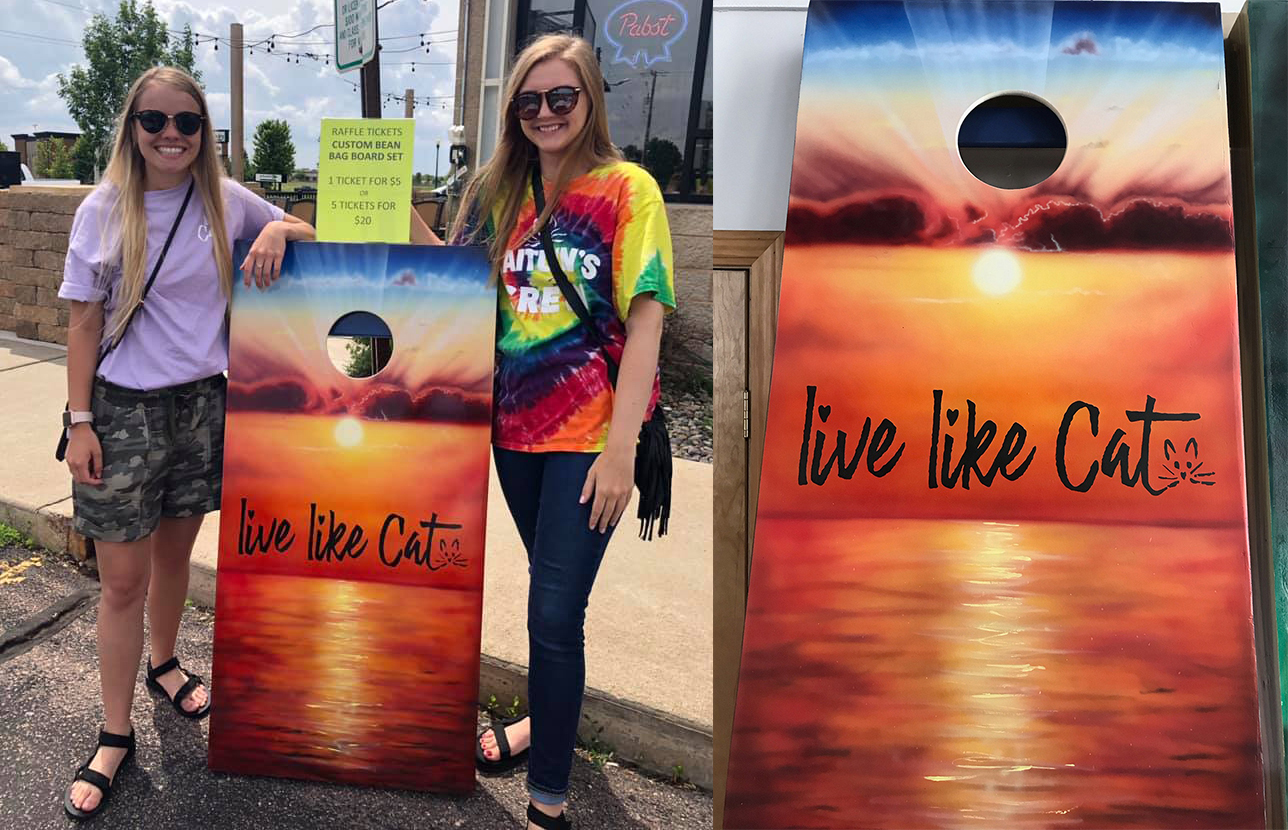 June 15, 2019
Custom painted bean bag board set raffled off at the first annual bean bag tournament. Deb Hickman was the lucky winner!