2023
February 20, 2023

Caitlyn's 25th birthday is in March and the foundation is doing something special to honor her. "I wanted to do something special for her 25th birthday and so we came up with that we would give 25 teacher grants away on March 30th," Caitlyn's mom, president of Live Like Cat Foundation, Barb Olson said. Any teacher can apply for the grant. But that's not all the foundation is doing.

On March 30th, the group will be visiting Garfield Elementary for a "Life Lessons Learned by Cat" presentation. Additionally, students in each classroom at the school will get their own book. "We had this conversation and I said you'll have to get how many children you have, each grade level, and how many classrooms do you have, and she said 25, and so I thought that was very meant to be," Olson said.

The organization is also trying to collect over 500 books throughout the month. If you'd like to donate new books or money, we've provided contact information as well as the foundation's Venmo account here.
Keoland News
Sioux Falls, SD

Click here to watch the video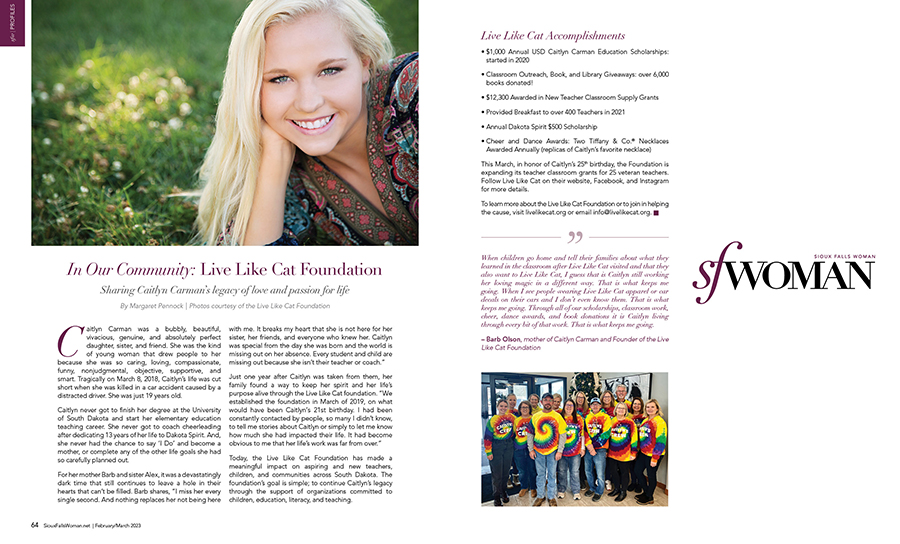 February 2023

Thank you Sioux Falls Woman Magainze for the amazing article titled "In Our Community: Live Like Cat Foundation" that shares Caitlyn Carman's legacy of love and passion for life. Article is written by Margaret Pennock.

Sioux Falls Woman Magazine - February/March Issue 2023
Published on Jan 30, 2023

Sioux Falls, SD

Click here to read the full article
Click here to read the magazine
Click here to read the website version of the article
2022
July 25, 2022
Helping First-Year Teachers Fill Their Classrooms
"A local non-profit is hoping to ease the cost burden for first-year teachers trying to get their classrooms stocked up for the year. From decorations and libraries to pens and pencils, many first-year teachers dream about what their first classroom will look like. For the third year in a row, the Live Like Cat Foundation in Sioux Falls is helping teachers fulfill that dream."
Keloland News
Sioux Falls, SD
Watch the video to the right or click here
2020
March 6, 2020
Live Like Cat continues young woman's legacy with book donations and sharing valuable life lessons
Keloland Living
Sioux Falls, SD
Watch the video to the right or click here
2019
November 27, 2019
On Friday, Mrs. Kraayenbrink's kindergarten class and Mrs. Neilsen's 1st grade class had the opportunity to learn about their student teachers, Miss Faris' and Miss Zeigler's friend, Caitlyn (Cat) Carman who unfortunately passed away in 2018. Cat had a special way with kids and was pursuing a degree in education.
Horizon - Lisa Garrett
Horizon Elementary, Harrisburg, SD
Click here to read the full article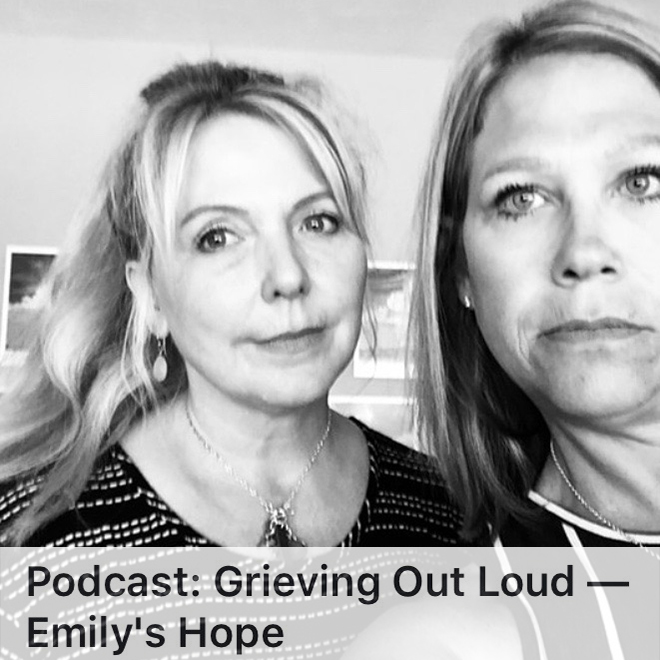 August 14, 2019
Barb, Caitlyn's Mom, was featured on Angela Kennecke's Podcast: Grieving Out Loud - Emily's Hope. Episode 11: Moms Turning Heart-break into Action.
Podcast: Grieving Out Loud - Emily's Hope
paintingapathtorecovery.org
Sioux Falls, SD
Click here to listen to Episode 11 of the Podcast: Grieving Out Loud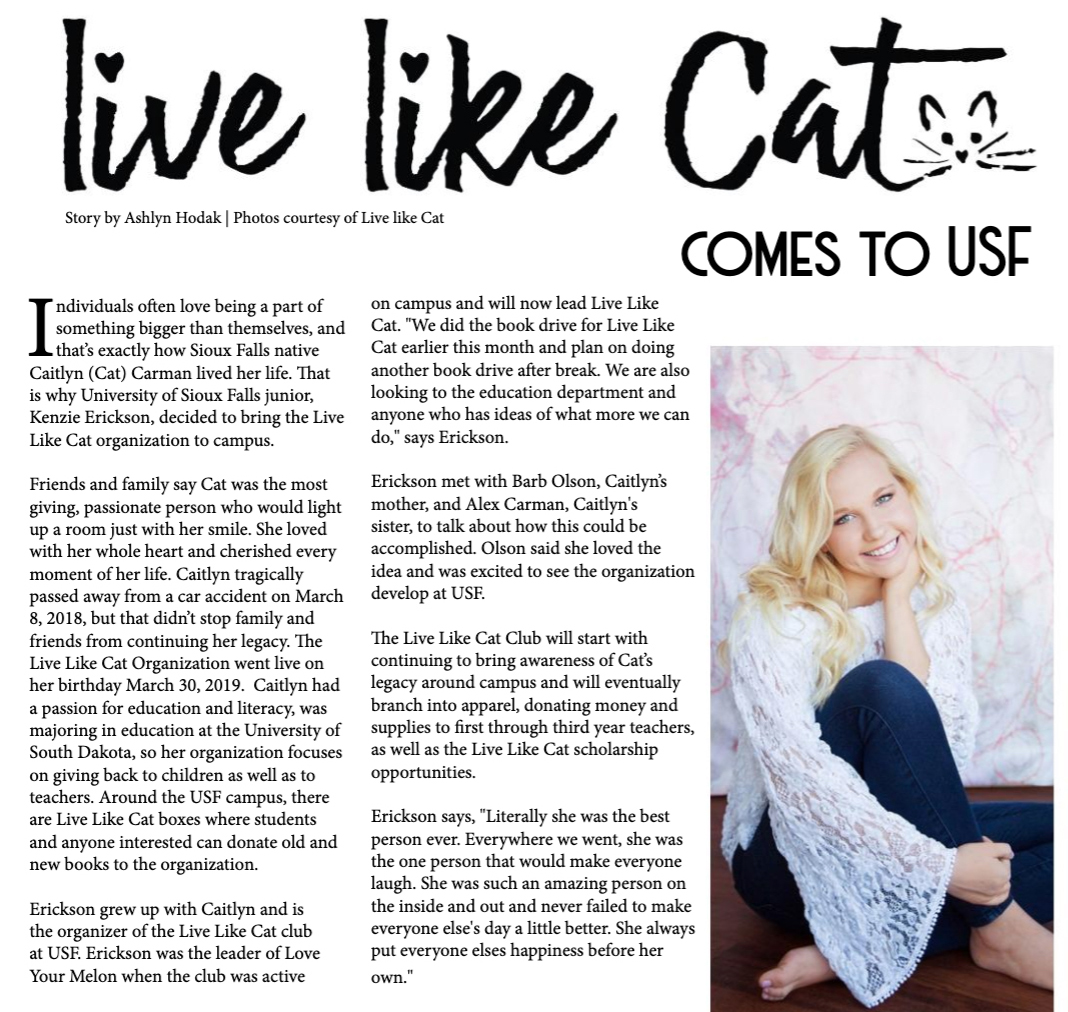 May 2019
University of Sioux Falls junior, Kenzie Erickson, decided to bring the Live Like Cat organization to the USF campus by organizing the Live Like Cat club.
The Vessel
University of Sioux Falls, Sioux Falls, SD
Click here to read the full article
May 17, 2019
After young woman's death, group teaches students how to 'Live Like Cat'
Keloland News
Robert Frost Elementary School, Sioux Falls, SD
Watch the video to the right or click here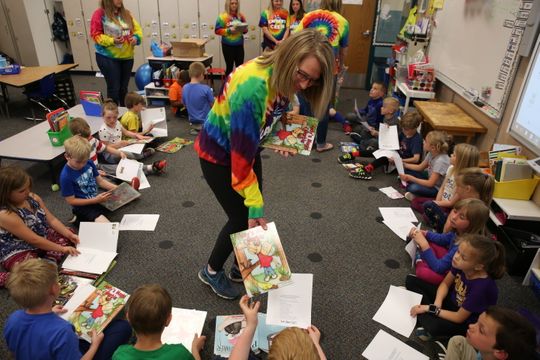 May 17, 2019
'Live Like Cat:' Mother celebrates daughter's life through book donations, spreading values
Sioux Falls Argus Leader
Robert Frost Elementary School, Sioux Falls, SD
Click here to read the full article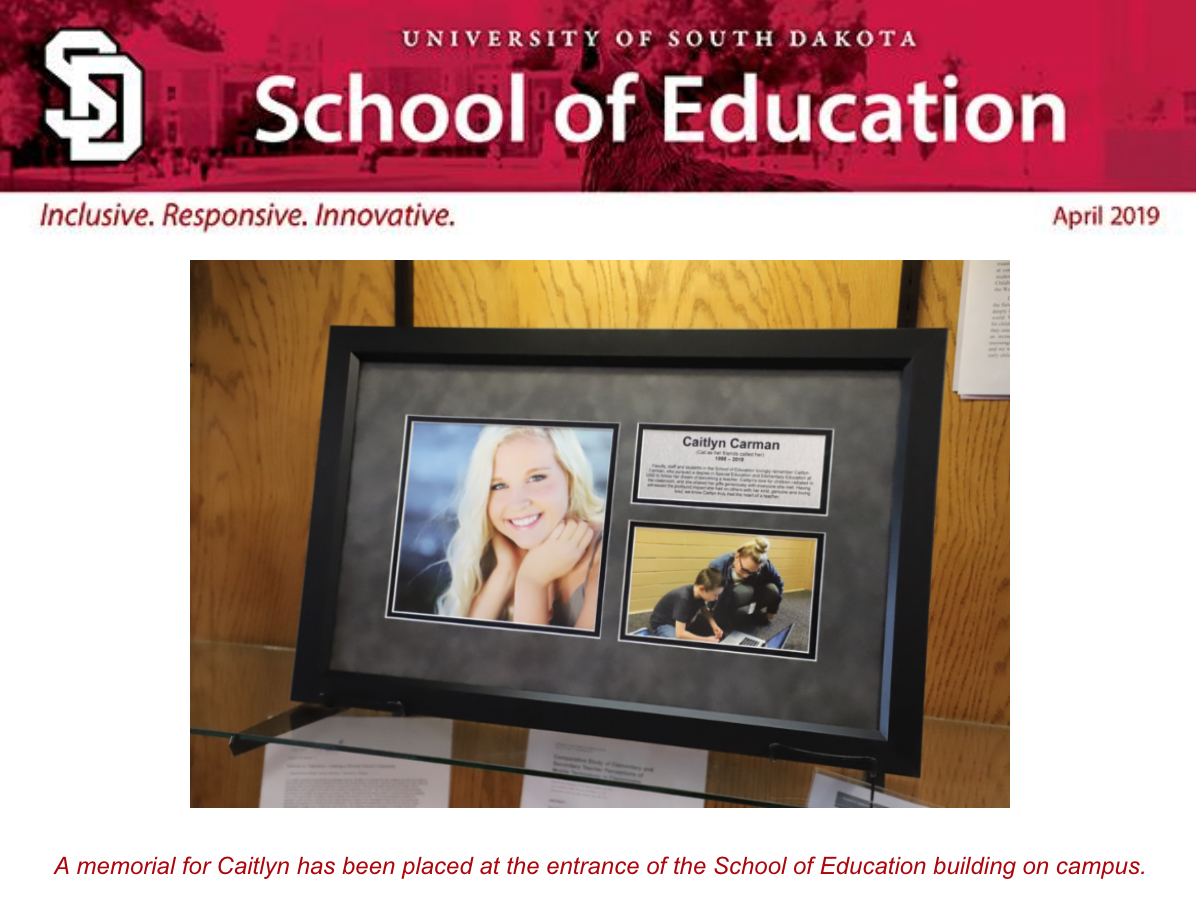 April 2019
University of South Dakota School of Education Newsletter highlights Caitlyn and her story.
A memorial for Caitlyn has been placed at the entrance of the School of Education building on campus.
Vermillion, SD
Click here to read the full article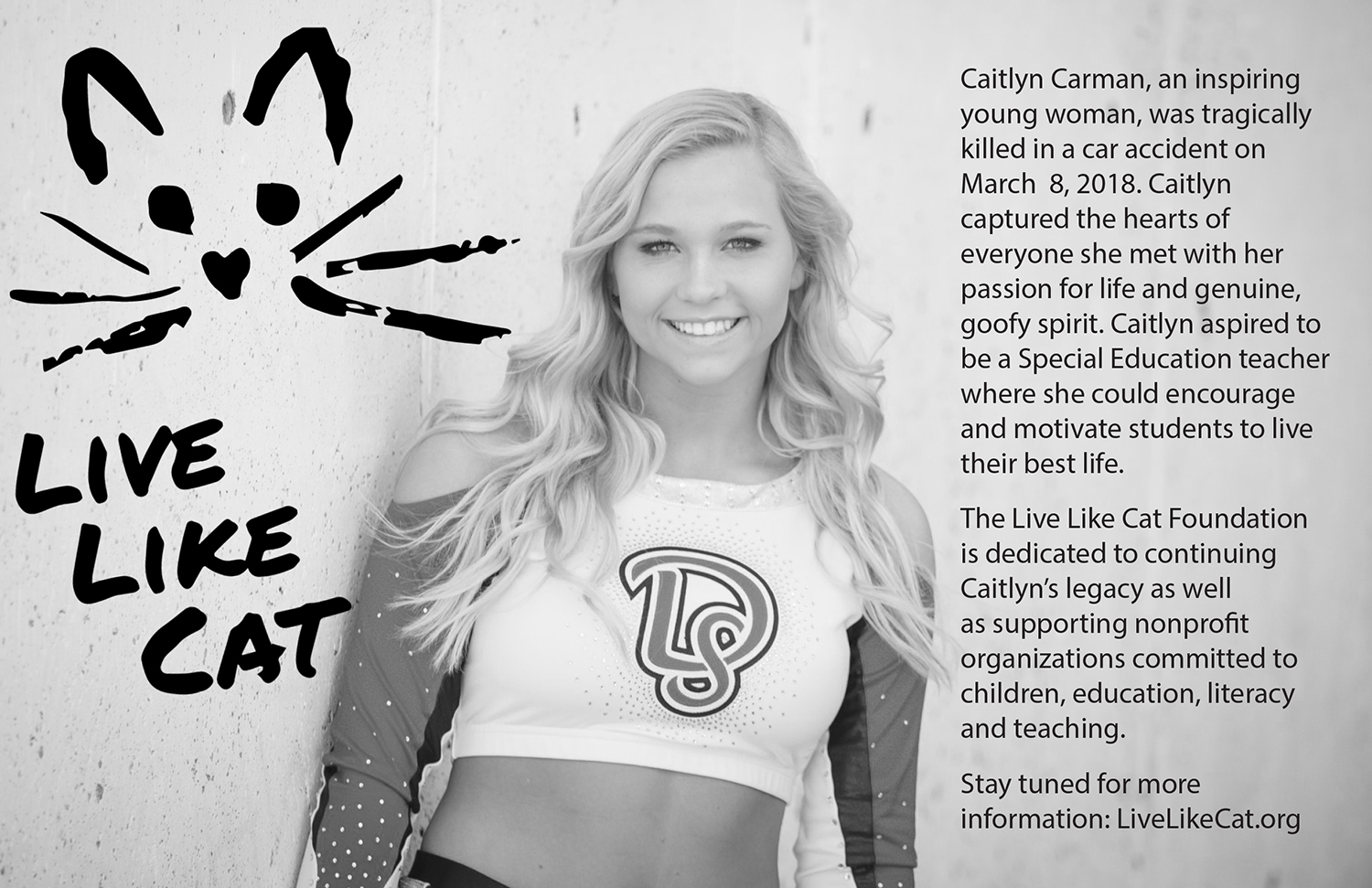 January 26 & 27, 2019
Spotlight in the Dakota Spirit Valentine's Classic Event Program
Sanford Pentagon, Sioux Falls, SD
Click on the image to enlarge
2018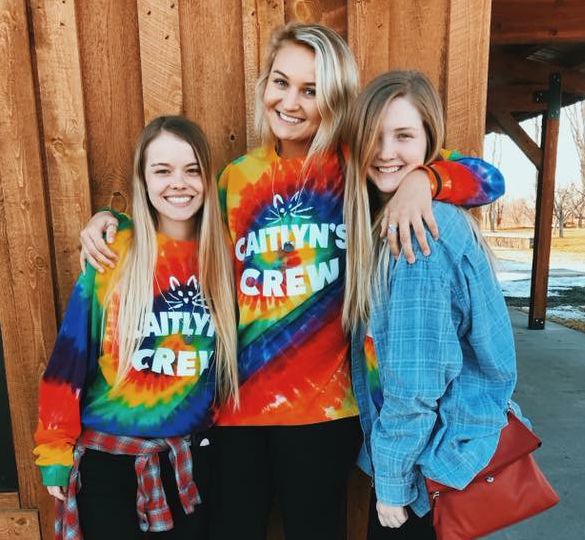 October 16, 2018
Friends of Late Caitlyn Carman Raise Money for Memorial Benches
There will be two benches built, one of them located at Cotton Park in Vermillion and the other at Jolly Elementary school.
The Volante
Vermillion, SD
Click here to read the full article